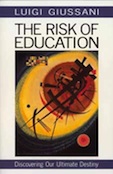 Luigi Giussani
The Risk of Education
Discovering Our Ultimate Destiny
Translated by Rosanna M. Giammarco Frongia
Editor:
The Crossroad Publishing Company - New York
Original title:
Il rischio educativo
Year:
2001
Pages:
144
(The book is also available for purchase through Barnes and Noble, itacalibri, and through the National office in NY by writing to communionandliberation@clhac.com)


The fundamental idea in the education of the young is the fact that it is through the younger generations that society successively rebuilds itself; therefore, the primary concern of society is to teach the young. What does education consist of, and how does it take place?
The Risk of Education explores what is at our origins as human beings. It presents the argument that without the fundamental factors of tradition – something lived out in the present that proposes and gives its reasons – and criticism – asking yourself why? – the young person is merely a fragile leaf separated from its branch.